It's got a pretty self-explanatory name, but what IS internal reporting? Internal reporting looks at your business and its productivity, costs, efficiency and how your employees are doing.  These reports help businesses make strategic decisions, determine financial health, and monitor individual performance.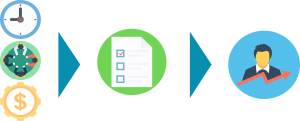 Let's look at an example.
An internal report is done on your Human Resources (HR) department's efficiency levels. The report finds lots of effort goes to chasing up superannuation payment issues or annual leave paperwork for current employees, but this effort is not increasing revenue.
However, to do this internal report via traditional methods is a hassle for those involved. Your already busy HR staff now have to sit down and fill out a paper form, tapping a pen on their cheek going "I don't know how long I spend sorting out super payments each fortnight… Steve? How long are you putting for this survey? Okay, I'll put 10 hours as well, then."  Or, they'll be brought away from their work and surveyed in person.
Now, it turns out each person in the HR department spends 20 hours a fortnight on super payments, not the estimated 10. The executive team had decided that since 10 hours is a reasonable amount of time to be spent on sorting out superannuation each fortnight, they did not need to implement new measures.
With this example, the internal reporting creates two further problems: staff are taking time off to perform the survey (in one form or another), and the decision made by the executives did not resolve the issue because of incorrect data. Staff reporting data may be subject to bias, or provide incorrect information. This may result in inappropriate decisions, and not benefit the business at all.
So how do you avoid these problems?
There are several mitigation strategies that the company can adopt to ensure their internal reporting is accurately carried out.
One of these is using digital forms that log the time taken to do certain activities automatically, rather than leaving the staff to incorrectly guess how long they take. This way, the data is not intruding on employee's time to do their jobs, and is also accurately captured. Doing so also enables the time taken to be directly multiplied by expenses, to determine overall cost, and simplifies the analytical process. This information-rich data guides strategies to reduce the time spent on (for example) processing superannuation payments each fortnight.
Alternatively, internal reporting staff could digitally monitor the relevant department. However, this would compromise individual privacy, use more labour (and therefore increase cost) to collect and analyse data.
Digital forms provide an important avenue for improving the data obtained from internal reporting, and achieving better outcomes for your business.