It's safe to say that paperwork is one of the least favourite parts of everyone's job. It earnt its notorious reputation through
Lost forms
Damaged paper
Inefficiencies in printing, signing, scanning, sending
Paper cuts
Incorrectly completed paperwork
Chasing up paperwork
Illegible handwriting
Cost of postage when original signatures are required
Storage costs
As disastrous as paper cuts may seem (we've all been there), the real disaster is how much time you spend chasing up paperwork. When you're doing that you're not focusing your full attention to running your business. This costs you time and money.
Imagine this. You have three field workers, each on $45 an hour, and one admin staff, earning $30 an hour. Let's assume they each spend 4.5 hours a day filling out, delivering, chasing or clarifying and transcribing paper forms into electronic data. With $100 worth of monthly printing costs, that amounts to a yearly cost of $77,250.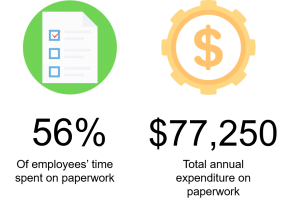 What could that sum go towards? It's more than your admin person's salary, and could even provide a significant investment opportunity for your business.
What if we told you there was a service which enabled you to have a Return on Investment (ROI) of $76,146 and reduced the amount of time spent on paperwork by 243 working days?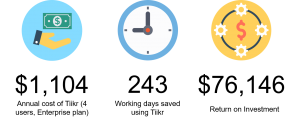 There's a light at the end of this dark (and expensive) tunnel. It's called Tiikr.